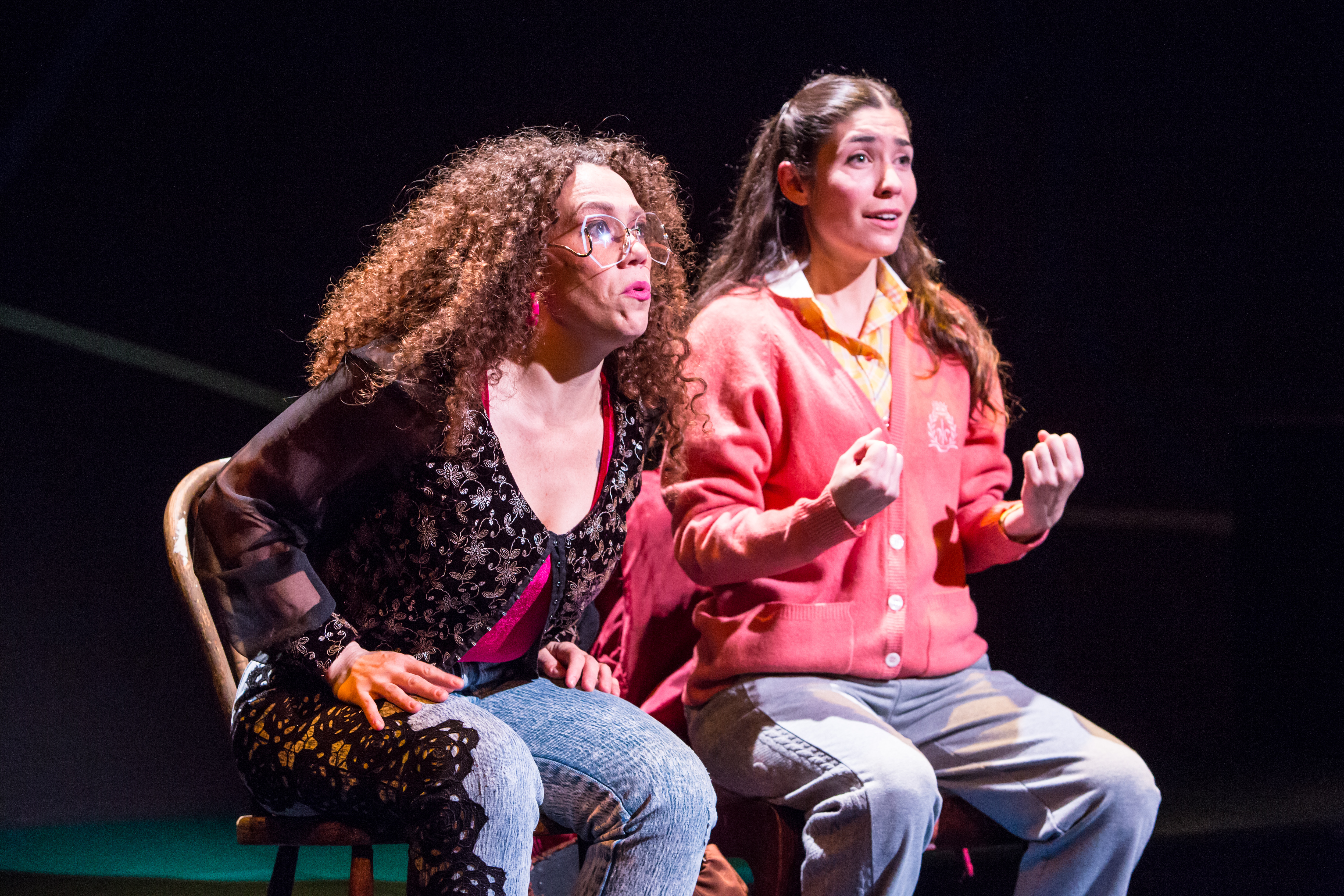 When 15-year-old Olivia (Alex Ramirez de Cruz) storms out on her father Aaron (Chris Harder) and his wife Deborah, the only person she can turn to is her mother, Beatriz (Julana Torres). The two barely know each other, as Aaron was awarded full custody of Olivia when he and Beatriz separated eight years ago.
Quiara Alegria Hudes's 2009 play 26 Miles opened to the slamming of doors and tires on wet pavement June 17 at Profile Theatre. Beatriz immediately answers Olivia's plea to come get her. It turns out Beatriz has a little resentment too, toward her philandering husband Manuel (Jimmy Garcia). Thus, the two wronged women end up in a car together headed to Wyoming. Olivia's dream is to see the buffalo.
It is not an easy trip. When Olivia tries to call her father, he won't pick up. When Beatriz calls Manuel, he whines. And then there is that mother-daughter thing. Beatriz is a colorful, emotive, in-your-face Latina. She's the mom who does embarrassing things. Olivia is an introverted teenage intellectual, as different from her mom as different can be. And yet, on a road trip, so much of these disparate lives inevitably is revealed.
26 Miles no doubt is a nod to the Pulitzer Prize-winning playwright's own life as a brilliant girl, half Jewish, half Puerto Rican, from a broken home, and the difficulties she faced growing up wondering about her place in the world. And yet, it speaks to all of us. As Profile Theatre Artistic Director Josh Hecht said before the performance, "This is not my story, but I see myself in this story…."
As we "ease ourselves into the story," we learn a little bit about ourselves and the other guy. And we are riveted by great storytelling.
In January, 2016, Profile Theatre launched its Diversity and Inclusion Initiative, a three-year commitment to producing the work of exclusively women and people of color. The theater has a unique ability to help us see our world in new ways and to help us envision the world that we want. Profile's mission is to produce a season of plays devoted to a single playwright, engaging with our community to explore that writer's vision and influence on theatre and the world at large. This is the second in the Quiara Alegria Hudes season.
26 Miles is directed by Rebecca Martinez. It runs through June 15, and is a great play for audience members ages 12 and older. All performances are at Artists Repertory Theatre, 1515 SW Morrison St., Portland 97205.
Photo above: Beatriz (Julana Torres) and Olivia (Alex Ramirez de Cruz) in 26 Miles. Photo by David Kinder.