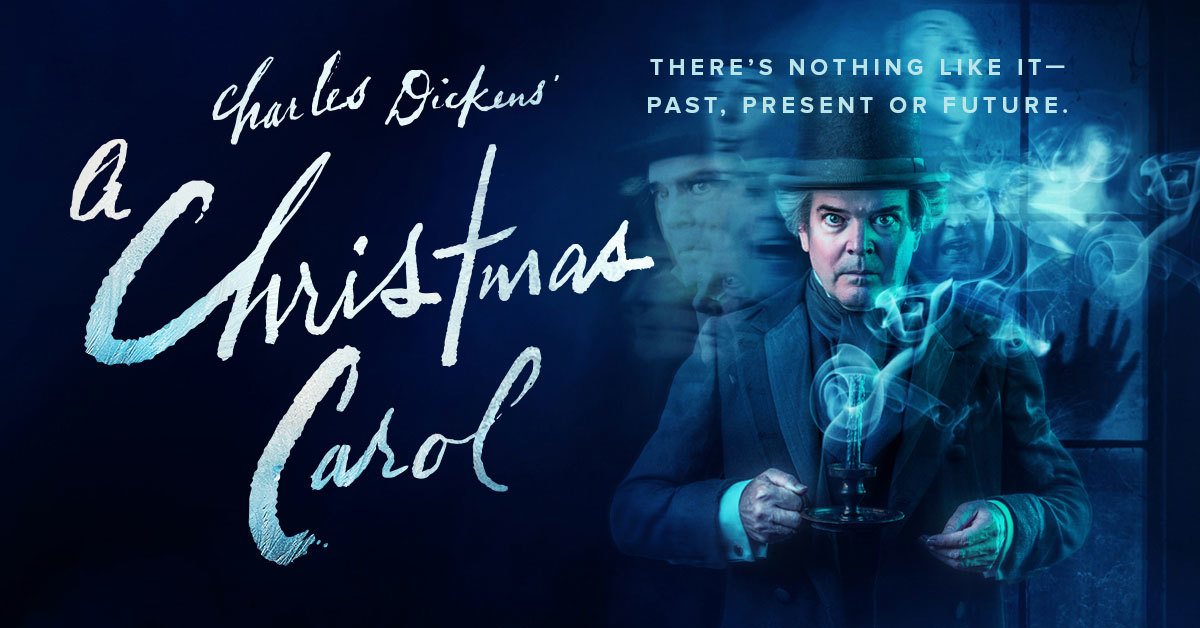 Throughout the last 10 months, Portland-area live theatre has struggled as much or more than any other segment of our economy. And yet, as a body and singly, theatres carry on, stretching their creativity to bring in-home audiences a variety of productions great and small.
The holiday lineup is here–an abundance of streaming events for all ages and tastes. Make some hot chocolate, gather your family or very small tribe, get cozy, and enjoy one or many of these fun events!
Now through January 3, Portland Center Stage presents A Christmas Carol audiences won't soon forget. For here, Tony award winner Jefferson Mays plays over 50 roles in a virtuosic, master class of a performance that must be seen to be believed. This theatrical achievement comes from the haunting vision of one of Broadway's most imaginative directors, Michael Arden.
Staged exclusively for this production and captured live with breathtaking clarity, this must-watch streaming event conjures the powerful spirits of Christmas and brings all the magic of live theater home for the holidays. Tickets are available here.
Also streaming at PCS:
Dael Orlandersmith's searing one-woman show Until The Flood played to sold-out crowds on the PCS stage in 2019. A few months after the shooting of Black teenager Michael Brown in Ferguson, Missouri, Orlandersmith traveled there and conducted interviews with dozens of people who were grievously shaken by the shooting and its turbulent aftermath. From these intimate conversations, she created eight unforgettable characters who embody a community struggling to come to terms with the personal damage caused by these complex events. Her tour-de-force performance gives voice to a community haunted by injustice and a country yearning for change. This event is free and streaming now.
The Bells That Still Can Ring provides warm holiday fare to lift your spirits and brighten the darkest of winter days. Music and movement merge to center grace, joy, love, and friendship in a series of filmed vignettes that enable us to hold space together, even as we must stay apart. Gather your favorite people and share this celebration of community and resilience as we invite the light to shine brightly within us.
At the helm of this short production is Isaac Lamb, lead artist, with Cindy Im, Claire Rigsby, Samson Syharath, Julana Torres, and Tara Velarde. Featuring Mont Chris Hubbard, music director; Jennifer Lin and Maggie Heath, designers; Chip Miller, associate artistic director; Kamilah Bush, dramaturg; and Dana Peterson, stage manager. Get your "pay what you will" tickets here.
Portland Civic Theatre Guild presents A Christmas Carol: A Victorian Reading streaming live on Saturday, December 19, at 7 p.m.
In the mid-1860s, Charles Dickens took to the stage to give dramatic readings of this story to sell-out crowds. Working from the text of the author's original reading copy, this year veteran actor Thom Bray faithfully re-creates the theatrical experience–Victorian dress and all–as a streaming event, truly the "tale told 'round the fire" that Dickens wanted his audience to imagine.
Ticket purchase allows access to the live stream, as well as the recorded stream on-demand through December 27. Tickets are available here. Use the code "guild" to direct 20 percent of the ticket price to the Portland Civic Theatre Guild.
Third Rail Repertory Theatre is proud to announce its participation in the Nationwide Reading of the seven winning plays of #ENOUGH: Plays to End Gun Violence, a national short play competition for middle and high school students. On December 14—the 8-year remembrance of the shootings at Sandy Hook—the winning titles will be performed at Third Rail and over 48 other theatres and schools across the country and abroad.
A panel of nationally-recognized dramatists—Lauren Gunderson, Academy Award winner Tarell Alvin McCraney, Pulitzer Prize winner Robert Schenkkan, Tony Award winner David Henry Hwang, and Karen Zacarías — selected the plays out of 184 submissions from twenty-three states and three countries in #ENOUGH's call for teens to write 10-minute plays that confront the issue of gun violence. 
The plays—all written by high school students—tackle gun violence through different lenses, including the threat of and anxiety over school shootings, police shootings, community violence, race, and gun culture in American history. #ENOUGH has made the plays available for free to schools, theatres, and community organizations to stage a reading of them, either virtually or in-person where possible, and follow that reading with a post-show discussion on gun violence that's specific to their community. Reserve your ticket email boxoffice@thirdrailrep.org .