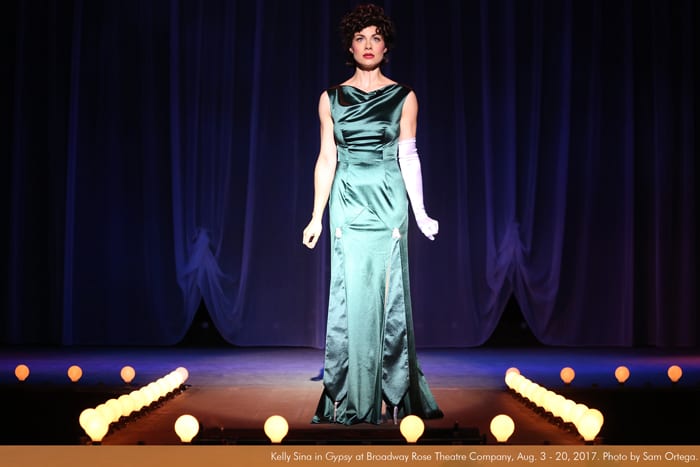 When
Gypsy Rose Lee
made her stage debut as a stripper, it was not due to years of planning. She had spent all of her childhood and young adulthood up to that point as a minor player on the vaudeville circuit. Her name was Rose Louise Hovick, she was called Louise, and she performed at her mother Rose's whim. From humble, indeed deprived, beginnings, Louise went on to become one of the best-paid entertainers of her time. But I'm getting ahead of myself.
Gypsy
, now playing at
Broadway Rose Theatre
, tells the story of Louise and her family in their earliest days, up until the time when she became Very Famous Indeed. The play, written by Arthur Laurents, with music by Jule Styne, and lyrics by Stephen Sondheim, is loosely based on Gypsy Rose Lee's memoirs, which were published in 1957. It debuted on Broadway in 1959.
This is the story of a bombastic, bullying stage mother–Rose Hovick (Sharon Maroney). Louise (Kelly Sina) has a very small role until the second act of the play. Her sister, June (alternately played as a small child by Ryleigh Hefflinger, and later by Kailey Rhodes) was the apple of Rose's eye, and starred in Mama Rose's ill-conceived vaudeville acts.
It is a tortuous tale. Every time the family gets a chance, Rose insists on the impossible, despite the more sage advice of her partner, Herbie (Dan Murphy). And yet, it fascinates. Rose, despite her obvious motives, is a complex character, and Sharon Maroney gives a tour de force performance of an increasingly driven, narcissistic, frustrated woman who never gives up. Rather, she keeps bouncing back for more, dragging her hapless children and Herbie with her.
One of Broadway's all-time classics, Gypsy features such timeless songs as "Small World (Isn't It)", "You'll Never Get Away From Me", "Everything's Coming Up Roses", and "Let Me Entertain You." Sharon Maroney and her husband Dan Murphy are the founding producing artistic director and founding managing director of Broadway Rose and, and in addition to performing in many of the theatre's productions over the years, have seen it through its first 25 seasons.
Although the play is fairly mild in content, there are a bunch of strippers in the second act. As well, it features some very creative costumes (thank you, Darrin J. Pufall), which, although hilarious could lead to a lot of explaining between children of a certain age and their parents. So parental discretion is encouraged.
The play is directed by Annie Kaiser. It runs through August 20 at the Deb Fennell Auditorium at Tigard High School, Broadway Rose's summer quarters.