The People's Republic of Portland, which opened at Portland Center Stage's Ellyn Bye Studio March 27 and runs through April 19, gives new dimension to the one-woman show, not to mention Portland. Directed by Rose Riordan, this part scripted, part stand-up comedy is 90 minutes of pure craziness, amped up music, nearly impossible gyrations, and many small truths. It also taught me something about the city I've called home for decades.
Los Angeles-based Lauren Weedman, a television and film actress and comic, is also a seasoned script writer, and is responsible for the madness.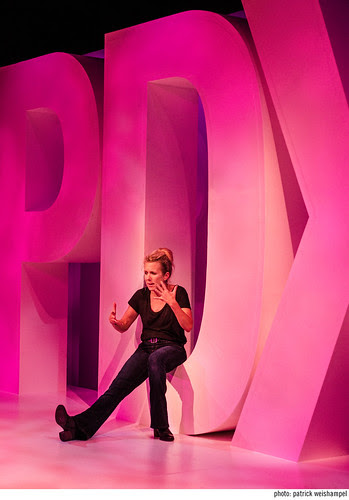 Weedman was commissioned by Portland Center Stage to explore Portland and translate her experiences into a theatrical event. It was funded by Innovative Minds, a philanthropic program at Perkins Coie, Portland, designed to recognize and reward intellectual curiosity in our communities.
The sponsors probably could never imagine how seriously Weedman would take that intellectual curiosity part. Who knew, for example, that the hottest thing among Portland hipsters is no longer food carts, but visiting strip clubs? that some Portland teens are wild about kale? that salons still occur in Portland's West Hills (hosted by people Weedmen calls "the Amelies")? or that ecstatic dance runs rampant on Alberta? From the moment Weedman is met at the airport by a young man named Kelsey whose car smells of dog, she is on a mission that turns up nuggets, surprises, and hilarity wherever she goes.
This show is laugh-out-loud, wet-your-pants funny.
First produced by PCS in 2013, the world premiere of The People's Republic of Portland enjoyed sold-out shows and an extended run. Now it is back, one assumes, by popular demand. If opening night is any indication, there may be another extended run. Weedman's formula has caught on in other areas as well. Since 2013, she's been invited to write shows for Boise (Boise, You Don't Look a Day Over 149), Albuquerque (Good for You, Albuquerque) and Philadelphia (Well, I Think' You're Beautiful, Philadelphia).
(Photo: Patrick Weishampel)