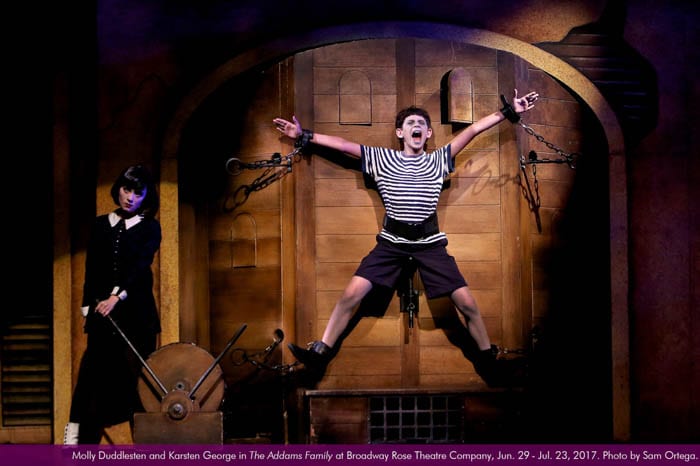 Thinking back today about what a wonderful time I had reviewing plays in 2017, it occurred to me that a round-up of my favorites might be a good thing to do. So, without further fussing around, here it is:
Astoria Part I, by Chris Coleman, ran last January at Portland Center Stage. Adapted from Peter Stark's 2014 New York Times bestseller Astoria: John Jacob Astor and Thomas Jefferson's Lost Pacific Empire, A Story of Wealth, Ambition, and Survival, the play is history turned into a live action-adventure play that pushes the limits of most theatrical performances. Under Coleman's pen and direction, the silent characters of  Stark's book become flesh and blood, conflicted and conflicting, altogether larger than life.
Astoria Part I fills the huge tapestry that is the American West telling a story that could only happen here. The cast is huge, the massive set a thing of stark beauty, the dramatic script packed with villains, heroes, fools, and wonderful music.
Lucky Portlanders! Astoria Part I returns to Portland Center Stage on January 13  for a total of seven performances, and Astoria Part II enjoys its world premiere on January 26, 2018. Both on the Main Stage; tickets are going fast.
Broadway Rose's The Addams Family, a darkly weird, satiric musical comedy, was exceptional. Based on characters created by cartoonist Charles Addams, the show features the usual suspects from the nuclear family (for those who remember the television show), an ensemble of ghoulish ancestors, a young man in love, and his unwitting parents from Ohio–22 actors in all. Written by Marshall Brickman and Rick Elice with music and lyrics by Andrew Lippa, the story revolves around Wednesday Addams (Molly Duddlesten), who stalked the stage dressed in black and armed with a crossbow. Think Katniss Everdeen with spats. She dreams of love, and of ways to torture her little brother Pugsley (Karsten George). The cast at Broadway Rose knocked this one out of the park. The set, music, and costumes were superb as well.
An Octoroon, this take-no-prisoners satire by Brandon Jacobs-Jenkins, is a postmodernist critique of The Octoroon (a popular play from 1859 written by Irish-American playwright Dion Boucicault) told in white face and black face. We were transported to Jenkins's version of the antebellum south, where slaves use modern vernacular and call each other the N-word, while a mysterious Br'er Rabbit (a cultural symbol for the trickster) strays in from the briar patch, and cotton falls from the sky. In his deconstruction of our country's little race issue, Jacobs-Jenkins pulled out all the stops. Nothing is sacred in this play.
His Eye Was On The Sparrow, the one-woman show (with accompanist Darius Smith) at Portland Center Stage's Ellyn Bye Studio told the story of blues singer Ethel Waters in a tour-de-force performance by Maeisha McQueen.
The Importance of Being Earnest, written by Oscar Wilde and directed by Michael Mendelson, ran at Artists Repertory Theatre with nary a male on the stage. Few things are more hilarious than actors playing members of the opposite sex. This timeless social satire was no exception.
Fun Home was the ironic title of Alison Bechdel's best-selling 2006 graphic novel about her coming of age, coming out, and coming to terms with the things life handed her. It ran at Portland Center Stage at the Armory last fall. Fun Home was transformed by Lisa Kron (book and lyrics) and Jeanine Tesori (music) into an exquisitely tender, funny, and probing look at a young woman's evolution from small child to best-selling author and cartoonist as it relates to her confused and confusing relationship with her father.
It was a special night, indeed, for local playwright–Ellen Margolis–who enjoyed the world premiere of her own work in her own hometown. Even better, that play proved to be one of great intellect and wit. Inspired by William Shakespeare's Pericles, Prince of Tyre, Pericles Wet reimagines the original with a contemporary twist.  The story that emerges is one that speaks to women throughout the ages. Portland Shakespeare Project staged the play, directed by Michael Mendelson.
And finally, it's been many years since Oregon Shakespeare Festival brought one of its plays to Portland, but this isn't your typical year. This will go down as the season when Portland-area theatres decided, almost as one, to fight back against the growing inequities large and small in our country. What groups have been most affected by the past year's changes in our government? Take your pick: African Americans, Jews, Muslims, the news media, the LGBTQ community.
And then there are the Mexicans…and the women. Thus, Luis Alfaro's biting contemporary play, Mojada: A Medea in Los Angeles, made its way from a successful summer run at OSF to the Main Stage of Portland Center Stage at the Armory.
As its title implies, Mojada has its roots in ancient Greek mythology, and in the play by Euripides first staged in 431 B.C. This modern iteration of the Medea myth is the story of a migrant family who flee the violence of their native state in Mexico for a new and better life in America. Gripping and visceral, this is the story of immigrants, the refugees, and marginalized people everywhere told unforgettably by a master of the craft.
So many wonderful plays throughout the year, I couldn't list them all. Thank you to Portland live theatre for an unforgettable year of drama.