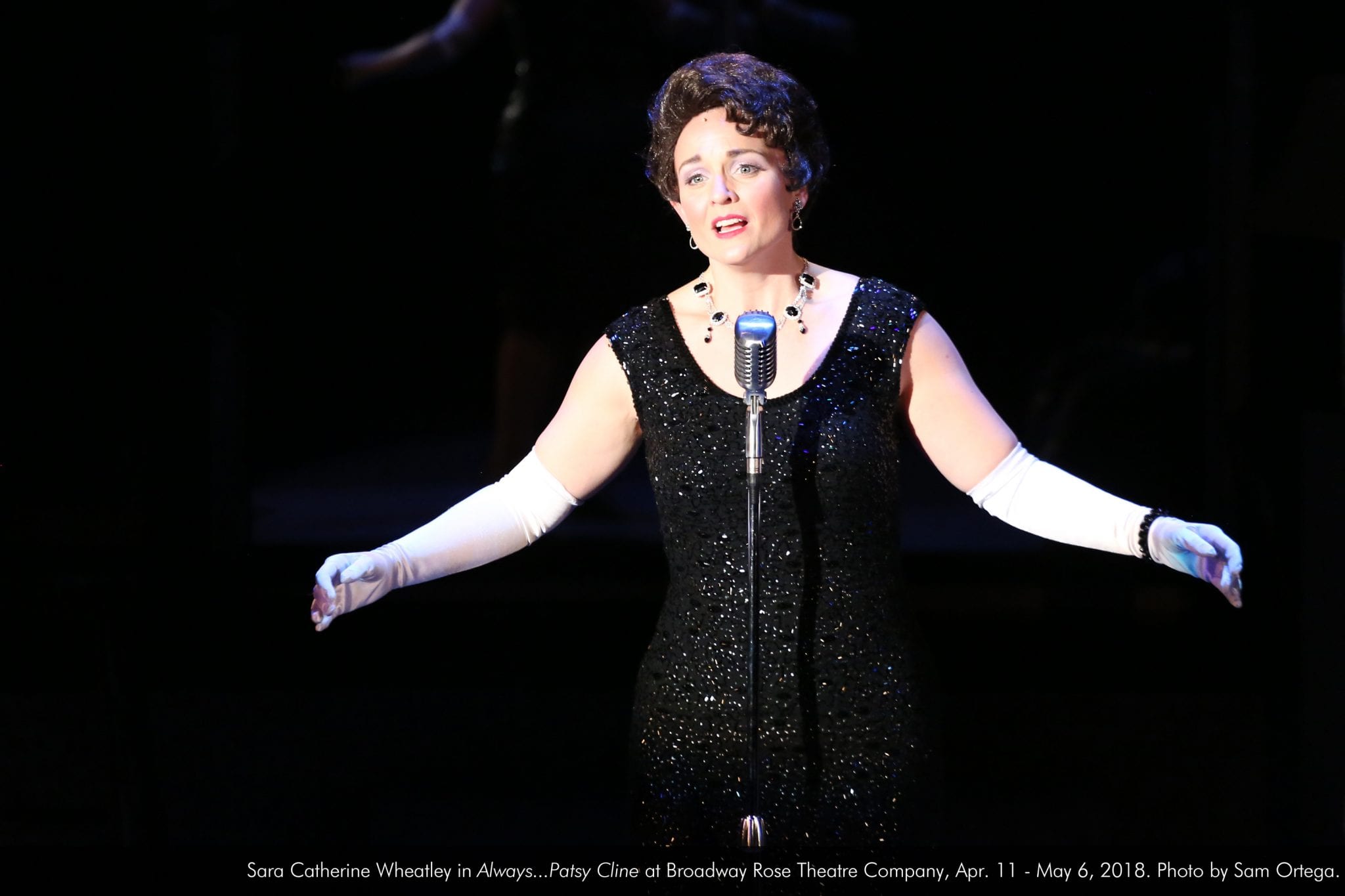 Always…Patsy Cline, created and originally directed by Ted Swindley, is a big favorite at Tigard's Broadway Rose Theatre Company. As of last Friday night, this is the third time Broadway Rose has welcomed it to the stage–and the show is better than ever.
This also is the third time Nashville artist Sara Catherine Wheatley has appeared here in the role of Patsy Cline. (Wheatley also has performed in Hairspray and A Very Merry PDX Christmas at Broadway Rose.)
Always…Patsy Cline is based on the true story of the friendship between the country music star and Louise Seger (Sharon Maroney). The two met at a club on the outskirts of Houston in 1961. Louise had hauled her friends there to see her radio idol perform live and the two struck up a conversation before the show. Louise took Patsy home that night and fed her breakfast in the wee hours. The two continued their coincidental friendship, sharing many confidences, until Patsy's untimely death in 1963 at age 30.
Director Chan Harris describes Patsy Cline as not only a great singer that crossed genres from country to pop, but as a woman ahead of her time. "She was one of the first women to take charge of her own career in a male-dominated industry. She was the first female country music star to headline her own touring show and receive higher billing than male stars. She was the first female country singer to appear at Carnegie Hall, and the first female singer inducted into the Country Music Hall of Fame."
Wheatley and Maroney's onstage chemistry is excellent–like the best friends Patsy and Louise turned out to be. The period costumes by Shana Targosz are gorgeous. And it's great to hear a revue of Patsy Cline's wonderful songs, written by some of the best country songwriters of the time. Barney Stein and the band add just the right touch.
Always…Patsy Cline runs through May 6 at the Broadway Rose New Stage, 12850 SW Grant Avenue, Tigard, OR 97223. It's a great show for all ages.
(Photo: Sara Catherine Wheatley in Always…Patsy Cline at Broadway Rose Theatre. Photo by Sam Ortega.)