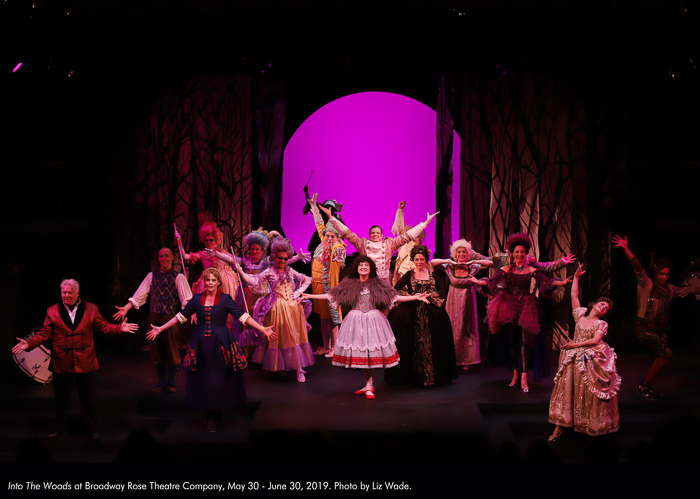 Summer season is here! And for Broadway Rose Theatre Company, that means BIG musicals. But this year, with Broadway Rose's summer venue under construction, the big musicals are being staged at their New Stage–a considerably smaller space.
When artists are faced with a challenge, we adapt. As a result, Into the Woods, with music and lyrics by Stephen Sondheim and book by James Lapine, opened May 31 without a pit orchestra or fly space or individual dressing rooms.
The theatre's producing artistic director Sharon Maroney and managing director Dan Murphy (wife and husband) have been planning the adjustment for a year, and were more than prepared. Enter director Jessica Wallenfels and music director/pianist Eric Nordin (wife and husband). Wallenfels drew inspiration from a modernized form of commedia dell'arte, coaxing actors into the highly stylized and wildly exaggerated emotions of the genre. Meanwhile, Nordin stripped down the orchestral score to its bare bones, utilizing only the piano, plus occasional percussion from the actors. He plays piano for three hours, minus one short intermission. This teamwork is used to great effect.
Into the Woods takes characters from some of our most familiar fairy tales. A baker (Eric Michael Little) and his wife (Leah Yorkston) desire a child and are advised by the Witch (Erin Tamblyn). Cinderella (Kailey Rhodes) must deal with a cruel stepmother (Elizabeth Anne Young), a clueless father (Bruce Blanchard), and two nasty stepsisters (Kayla Dixon and Sarah DeGrave) before she meets her Prince (Austin Comfort). Rapunzel (Kelly Sina) is stuck in that tower until she is rescued by her Prince (Adam Elliott Davis). Little Red Ridinghood (Hannah Sapitan) is confronted by the mother of all Wolves (Austin Comfort), and Jack (Tyler Andrew Jones) screws up and brings home beans, to the despair of his mother (Josie Seid). Dan Murphy narrates these events and drifts on and off stage as a Mysterious Man, and Alec Cameron Lugo is the hilariously unctuous Steward to Cinderella's Prince. In the midst of all this, Cinderella's Mother and Red Ridinghood's Grandma (both Katherine Martin) make appearances.
"Be careful what you wish for" warns the Witch. And in Act II, the audience gets the full meaning of those warnings. This is where the proverbial rubber meets the road. Archetypes stumble and fall, forced to deal with life on life's terms as their fairy world blow up around them. Going Into the Woods means experiencing life and its adventures, the big stories and myths and their fulfillments. And, when tragedy strikes and difficulties arise, as they always do, it's about how we come together to deal with them.
It's a lovely, complex show with lots of fun, great dialog, incredible costumes (Darrin J. Pufall Purdy with Lauren Vander Aarde and Grace Slaughter), wigs (Jane Holmes), and lovely and complex music. Sean O'Skea designed the woodland set. Thanks to lighting designer David Castaneda, sound designer Brian K. Moen, and the rest of the amazing Broadway Rose crew.
Into the Woods runs through June 30 at the Broadway Rose New Stage, 12850 SW Grant Avenue, Tigard, OR.
Top photo: cast of Into the Woods. Photo by Liz Wade.