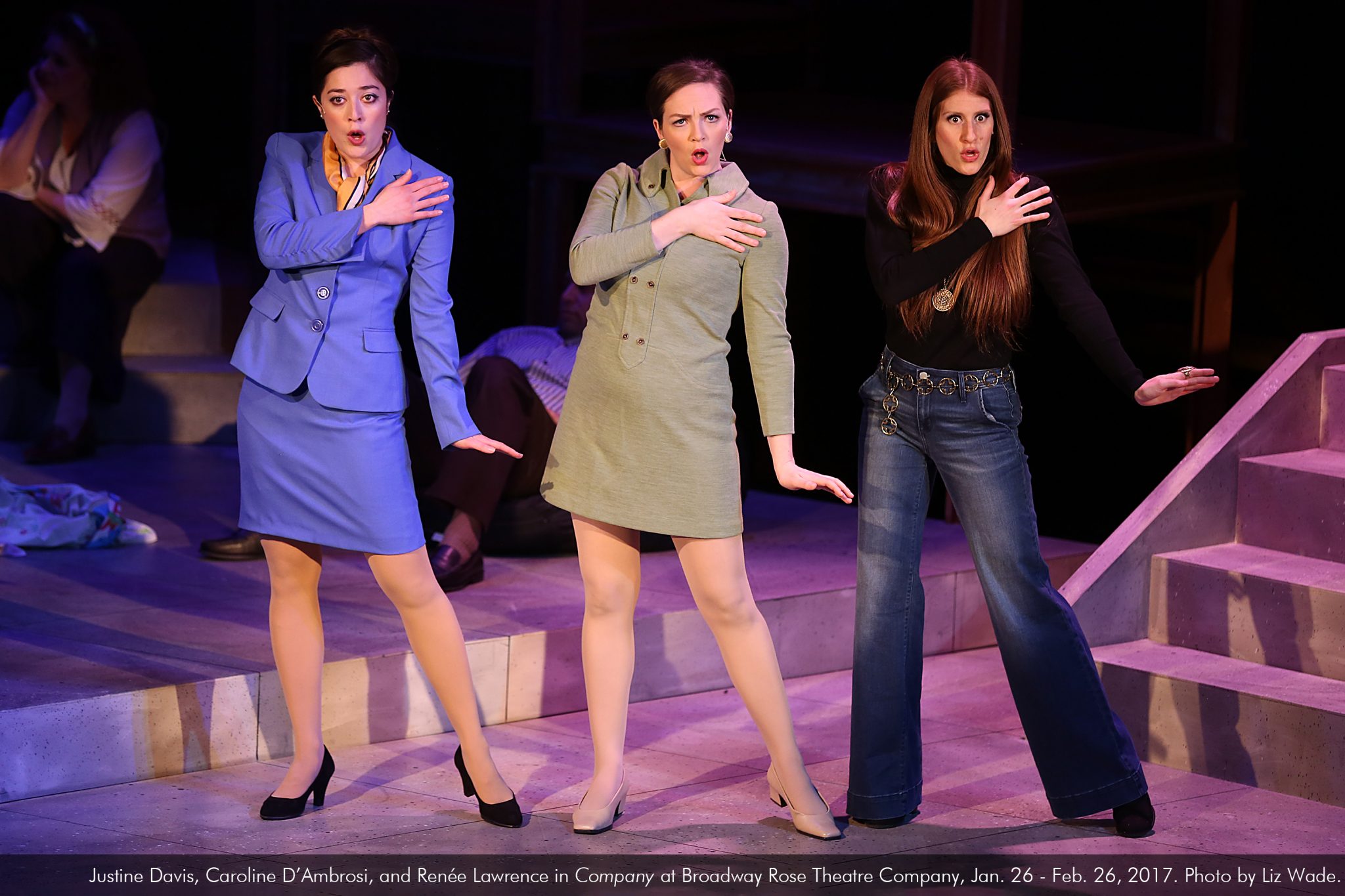 Company, a musical that examines the institution of marriage, opened Friday night at Broadway Rose Theatre Company in Tigard. Set in New York City, written by George Furth, with music and lyrics by Stephen Sondheim, the play made its Broadway debut in 1970. It was nominated for a record 14 Tony Awards and won six.
This is a large-cast musical featuring a handsome young bachelor, Robert (Jared Q. Miller), the five married couples who are his best friends, and three girlfriends. Robert is turning 35, there's even a party. But all his married friends are concerned. Robert is not married and has no immediate prospects. He does date several very attractive women, all of whom think he's the greatest; and he visits his friends in their homes.
And here's where the marriage part gets interesting. The evenings Robert spends separately with each couple reveal the inner workings of his friends' marriages/relationships. Barefoot in the Park this is not.
Marriage, it turns out, is a very complicated business–particularly to a fellow who seems to have everything, but doesn't.
What do the other players have to tell Robert about himself? And what can he learn from his own introspection on this journey that marks his 35th birthday, this milestone of singlehood?
This play goes back a few years, and marks a departure from musicals of the time that dealt mostly with lighter fare. It got in the faces of 1970 theatre audiences with its adult themes then, and it certainly works today. There are things in life that never change. Sondheim's brilliantly complex music and lyrics move the story forward in tantalizing and often humorous vignettes in what has become, for Robert's friends at least, a grueling mission to help the young man find the happiness they have found in their respective situations–or not!
Of the many clever songs and delightful moments in Company, my favorite was the song "You Could Drive a Person Crazy" sung by Robert's three girlfriends, April, the dim-witted flight attendant (Justine Davis), wholesome girl-next-door Kathy (Caroline D'Ambrosi), and the vampy Marta (Renee Lawrence). Later, April  shows up in Robert's apartment, where Davis qualifies herself as an excellent comic actress.
Special mention goes to director Annie Kaiser, musical director Jeffrey Childs, and to Larry Larsen for a spare but very effective set. Company continues at the Broadway Rose New Stage through February 26.